Time Zone
Korean time is 9 hours ahead of Greenwich Mean Time (GMT + 9)
Currency
The unit of Korean currency is the Won (₩). Coin denominations are ₩10, ₩50, ₩100 and ₩500. Banknotes are ₩1,000, ₩5,000 ,₩10,000 and ₩50,000.
Currency exchange
Foreign banknotes and traveler's check can be exchanged at foreign exchange banks and other authorized moneychangers. The exchange rate is approximately US$1 to KR ₩1,082.4 as of 1 August 2013.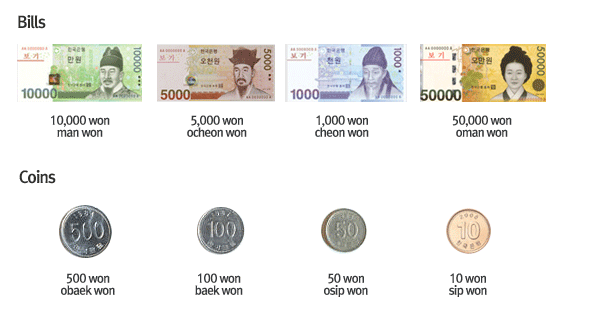 Credit cards
Diners Club, Visa, American Express and MasterCard are widely accepted at major hotels, shops and restaurants in the larger cities. Check with your credit card company for details of merchant acceptability and other services which may be available.
Traveler's check
Accepted, but may be difficult to change in smaller towns. To avoid additional exchange rate charges, travelers are advised to take Traveler's check in US Dollars.
Business Hours
Government office hours are usually from 9:00 to 18:00 on weekdays and closed on weekends. Banks are open from 9:00 to 16:00 on weekdays and closed on Saturdays and Sundays. Most stores are open every day from 10:30 to 20:00, including Sundays.
Tipping
Tipping is not a traditional custom in Korea. A 10% service charge will be added to your bill at all tourist restaurants and hotels. It is also not necessary to tip a taxi driver unless he assists you with luggage or provides an extra service.
Electricity and Voltage

The standard voltage in Korea is 220 volts. The outlet has two round holes and is the same type used in France, Germany, Austria, Greece, Turkey, and many other countries. If you do not have a multi-voltage travel adapter, you can borrow one from your hotel's front desk. If you want to buy one in Korea, you can do so at a duty-free shop, convenience shop at Incheon International Airport, or Yongsan Electronics Shopping Town.
Current Korea Weather Conditions
Korea has four seasons, with a wet monsoon/summer in the middle of the year, and a cold winter from November to March. The most ideal time to visit Korea is during the autumn months (September-November). During this time, the country experiences warm, sunny weather, skies that are cobalt blue and spectacular foliage that is perhaps the biggest draw. Winters are cold and dry and remain a good time if you are interested in winter sports as there are numerous ski resorts. Spring (April-May) is also beautiful with all the cherry blossoms in bloom.
Emergency Call
112 : Police
119 : Emergencies for Fire / Rescue & Hospital Services
129 : First Aid Patients
1330 : Travel Information Center
1339 : Medical Emergency
Useful Website